Radiant type kerosene heater model RS-G30C received Good Design Award from JDP (Japan Institute of Design Promotion) on October 1st, 2012 in the Japanese market.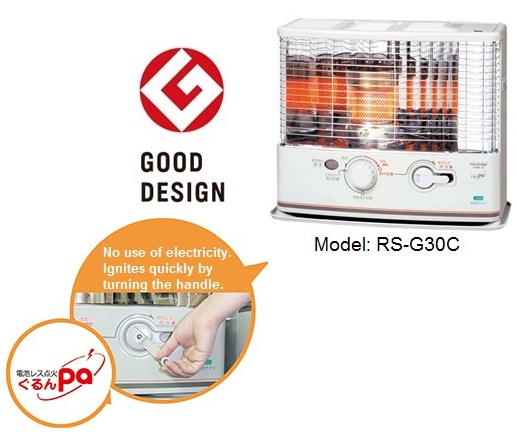 Model RS-G30C is the first kerosene heater enables consumers to ignite by manual electric generation without usigng a battery. It just needs to turn a handle for ignition. We developed this heater from the experience of the Great East Japan Earthquake in 2011 as there was a great demand for a battery when the life line was cut off.
Evaluation by judges
This product was highly praised for the development makes it possible to ignite by turning the handle only without using a battery or lighter. Model RS-G30C is also developed by focusing on easy-to-use handle for ignition. Furthermore, it is noteworthly that the heater does not generate any battery waste from the sustainable design and environmental point of view.
Good Design Award
Good Design Award is a comprehensive program for the evaluation and encouragement of design organized by Japan Institute of Design Promotion (JDP). "G Mark", the symbol of the award has been recognized widely as a mark representing good design. This award system was originally born in 1957. Since then, the Good Design Award has been given to outstanding designs for more than 50 years in the pursuit of prosperous lives and industrial development.