From September 1, 2018 to the end of that year, we held a campaign for donating Kerosene Cooking Stove to Africa, matching the number of "HH-210″ and "K-3F" sold in Japan.
Thanks to a number of Japanese customers who purchased our products, we were able to donate a total of one hundred Kerosene Cooking Stoves to those in need. We would like to take this opportunity to express our gratitude to everybody who participated in the campaign, and shared picture from the presentation ceremony.
Mr. Kataoka, the president of Toyotomi Co., Ltd. Presenting a Kerosene Cooking Stove to a local agent in Kenya.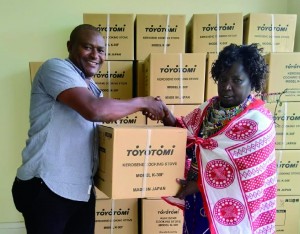 The local agent passing the stove on to a consumer.
Consumers using their new stoves at home for cooking.
Toyotomi is dedicated to creating new products to make lives more comfortable.