Environmental Activity
Basic Principle

Environmental Policy
Act under consideration of environment throughout the entire activities.
Carry on developing products and promoting service for comfortable environment use as well as resource and energy saving, recycling and the long term use.
Make an effort to minimize environmental burden and prevent the pollution.
Abide by all relevant environmental regulations and agreements with local communities.
Establish and act environmental purpose and aim as the basis of environment assessment.
Conduct constant re-examination and improvement by internal audit.
Encourage employees to understand environmental policy and enhance an educational activity for environmental management.
Encourage all the people work for our company to understand environmental policy.
April 1st, 2015
TOYOTOMI CO., LTD.
YOSHITAKA KATAOKA, President (COO)
ISO14001 International Standardization Organization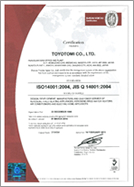 The Headquarters Plant ISO14001 (certified on January, 1999)
The Nukata Plant ISO14001 (certified on March, 2000)
Environmental Purpose
Promotion based on products that are in harmony with environment
●Promotion of environment-responsive products
●Effective use of resource
●Promotion of energy saving
●Reduction of substance of concern
Improvement of Production Activities
●Prevention of global warming
●Reduction of waste and recycling
●Promotion of green purchase