About Toyotomi


Toyotomi tailors its products to satisfy its customer's needs by always pursuing Toyotomi's business philosophy, "sharing joys in daily living". Toyotomi will continue to research, develop and manufacture products that match people's lifestyle for efficiency, safety and comfort and that are in harmony with the ever-changing living environment.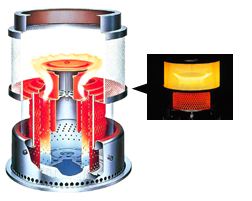 By forcing the exhaust gases that are emitted by the lower combustion chamber to be burned once again in the upper combustion chamber, the emission gas levels of CO (Carbon Monoxide) and NO2 (Nitrogen Dioxide) are dramatically reduced. In 1986, Toyotomi was the first Japanese manufacturer to receive the Consumer Product Development Award from the National Safety Council in the U.S.A. in recognition of its technological breakthrough in product safety and the superior performance of its heater. Then, in 1995, the Radiant Type Double Clean Heater Model RCA-1001 was awarded the Grand Energy Conservation Prize by the Chairman of the Energy Conservation Center, one of Japanese Government Agencies, in recognition of this heater's ability to save energy while still maintaining its high performance.

<
Toyotomi has engaged in developing Laser Wickless Fan Type Heaters since 1982 with emission gas levels even lower than ever on NOx (Nitrogen Oxides) and CO (Carbon Monoxide) in consideration of the living environment. Consequently, not only did we succeed in reducing emission gas to 1/3 of the self-imposed control level on Nitrogen Oxides (100 ppm) by the Kerosene-Fired Appliances Industry, but we also developed the Laser burner which provides stable combustion regardless of the quality of the kerosene fuel used in the heaters.
With the Excellent Laser Burner of FF (Forced Flue) type and Pot type Vented Heaters, we achieved the top level of performance in the industry with quick ignition and faster extinguishing as well as an extremely low noise level of operation.


We have also strived to increase the performance of our products even through unique exterior designs. Our outstanding unique exterior designs, which are ideal for today's style of living, are acknowledged not only in our kerosene heaters but also in our electrical home appliances for which we received the awards of Good Design Products from JDP (Japan Institute of Design Promotion).