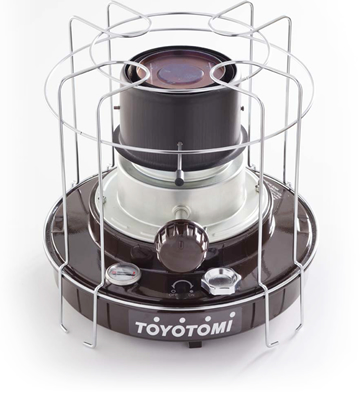 MULTIPLE FUNCTION & HIGH HEATING CAPACITY
K-30F is designed as cooking purpose mainly. Due to stable and powerful 2.25 kW heating power, it is easy to cook compared with the locally made products. Furthermore, it can be used as a supplemental space heating in the house.
DOUBLE WALL TANK CONSTRUCTION
The double wall tank construction delays fuel leakage even when stove tips over for safety.
DURABLE GLASS FIBER WICK
Durable Glass Fiber Wick ensures a longer wick life-time than cotton wick. Glass Fiber Wick cannot be burned out easily even if the stove runs out the fuel. Tar deposit on the wick can be removed cleanly by the method of burning dry.
EASY TO OPERATE AND MAINTAINANCE
Just turn the knob clockwise and ignite with a match. Then turn the knob counterclockwise for turn-off. No tool is required to replace a wick and it is easy for maintenance.
SPECIFICATIONS
MODEL

K-30F

TYPE OF HEATER

Cooking Stove

IGNITION

Manual by match

HEATING CAPACITY

2.25 kW (7,700BTU)

FUEL CONSUMPTION

0.209 lit. /h

TYPE OF FUEL

Kerosene

FUEL TANK CAPACITY

4.0 lit

BURNING TIME

19.1 hours

HEATER DIMENSIONS (WxDxH)

342 x 342 x 315 mm

WEIGHT (Net)

3.5 kg

CONTAINER Q'TY (20FT / 40FT)

540 / 1116 units.